PHOTO BOOTH PACKAGE ADDONS 
Our standard packages are packed full of features that many other companies charge extra for but there are some items that you may want to add on to make your event even more memorable.
Photo Memory Book  (POPULAR) – Do you want a photo book keepsake of your special day? Our Booth Attendant can put a copy of every picture in a photo book that your guests can sign on the spot. Price for this is dependant upon the size of your event but starts at $100 for a 200 photo book. We manage the book; includes book, pens and attendant urging everyone to sign the book. (Note: 200 photo book is included with Deluxe package)
Double Prints – Would you like an extra printed copy of each photo session to have for yourself but don't need the memory book as listed above? We can provide this to you at a small additional fee of $50. Note: Double prints are included with Photo Memory Book above..
Acrylic Photo Frames – Our 2×6/4×6 Acrylic L Frames help make the perfect, inexpensive wedding favor for your guests to always remember your special day! These are priced at 2×6/$1.50 4×6/2.50 ea. with a minimum order of 50.
2×6 Photo Bookmarks – Our 2×6 photo bookmarks with their photo booth photo strip makes the perfect, inexpensive gift/wedding favor! These are priced at $0.50 ea. with a minimum order of 50.
Magnetic Photo Sleeves – Our magnetic photo sleeves also make the perfect, inexpensive gift/wedding favor for your guests to always remember your special day! Looks awesome on the fridge! These are priced at $1.00 ea. for 2×6 and 1.75 for 4×6 with a minimum order of 50.
USB Thumb Drive of all images and prints (One included with Premium & Deluxe package) – Do you need USB thumb drives of the photos and prints in hi-res from your event as a keepsake? No problem, we can do that for $35 per thumb drive. Note: Thumb drive(s) will be delivered/mailed after event.
Additional Photo Booth Hours – We understand that you may want us there longer especially for large events with a lot of guests. We can certainly accommodate you for how every many hours you require. Additional hours of operation are $150 per hour.
Photo Booth Session Video – Watching people have fun with the photo booth is extremely entertaining! We can video with our wide angle action camera the entire session for you to enjoy later. Don't miss out on any of the live-action antics in front of the photo mirror. Cost: $75 and includes the entire booth event video on a thumb drive.
Roaming Photographer – In addition to people having a blast at the photo booth they also are busting a move on the dance floor and laughing it up at the banquet tables. Your wedding/event photographer that you are paying big bucks for are being paid to concentrate on YOU and not really the people attending the event. Wouldn't it be great to get some candid shots from other parts of the event? We can do that! We can send one of our event professionals out to take Hi-Resolution DSLR pictures from all around your event and capture additional memories for you and your guests! This service starts at $50 per hour and includes hi-res thumb drive of all your pictures and digital upload to the same web gallery as your photo booth pictures.
Idle Hours – If you need us there earlier than 90 minutes before or your event for set-up or you need us to wait to break-down after booth time is over we would be happy to accommodate your request but we must add an additional $45 per hour to do so.
Custom Props – We can custom make props for any event at an additional charge. The charge will depend on the complexity and size of the prop. Custom props are yours to keep after the event if you desire. Custom Props might include (#) Hashtag props for use in your photos.
Custom Backdrops – Have an exact image of what you want on a custom backdrop such as your company logo? We can do that at an additional charge which  starts at $200. Custom backdrops are yours to keep after the event if you desire.
Something Else – Have something else in mind that will make your event with our photo booth perfect? Just ask and we will see what we can do!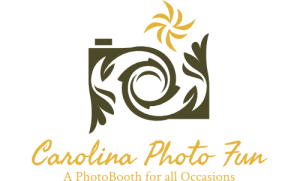 We are centrally located in Salisbury, North Carolina and service a 50 mile radius at absolutely no additional charge. NC cities such as Charlotte, Winston Salem, High Point,  Albemarle, Statesville, Concord, Kannapolis, Harrisburg, Huntersville, Mooresville, Hickory, and everywhere in between are all within our covered service area.